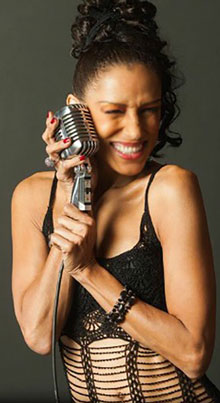 While residing in New York City her CD single "Kickin' in the Beat" graced the billboard charts for several weeks in 1996 and was # 1 for a while in Greece, London and other parts of Europe.
Today she is among the most sampled vocalists in house-music.
She has appeared in 4 nationally televised commercials, jingles for McDonalds and partnership against racism and sears.
Pamela spent several years on the fashion circuit.  As a model her face graced both print media and television, top magazines, commercials and national talk shows.
She sung at the likes of The "Kennedy Center" in Washington, D.C. and the "Hollywood Palladium".
Now residing In Chicago, She is the lead singer for several high profile jobbing bands, covering jazz, funk, soul, motown, disco, 70's, 80's, pop and urban contemporary.
Since 1995 she co-leads her own band Pamela's Dreams alongside of her long-time musical partner, keyboardist, arranger, and song writer Thomas Gunther.
Pamela is an enchanting and exciting vocalist whose dreamy, lilting and sophisticated style is matched only by her stellar appearance. Her smooth sensual sound reveals a mature and unique command of different styles of music and beats with unexpected twists and wit from experiences of life.